graphic design
branding
video production
storytelling
stage design
event techniques
scenography
production
The gala which make a circus out of it
Between real and imaginary, without limit nor constraint, circus has always enabled to create a space where emotions and sensations run free. This theme has thus been an exceptional playground with endless creative possibilities for us.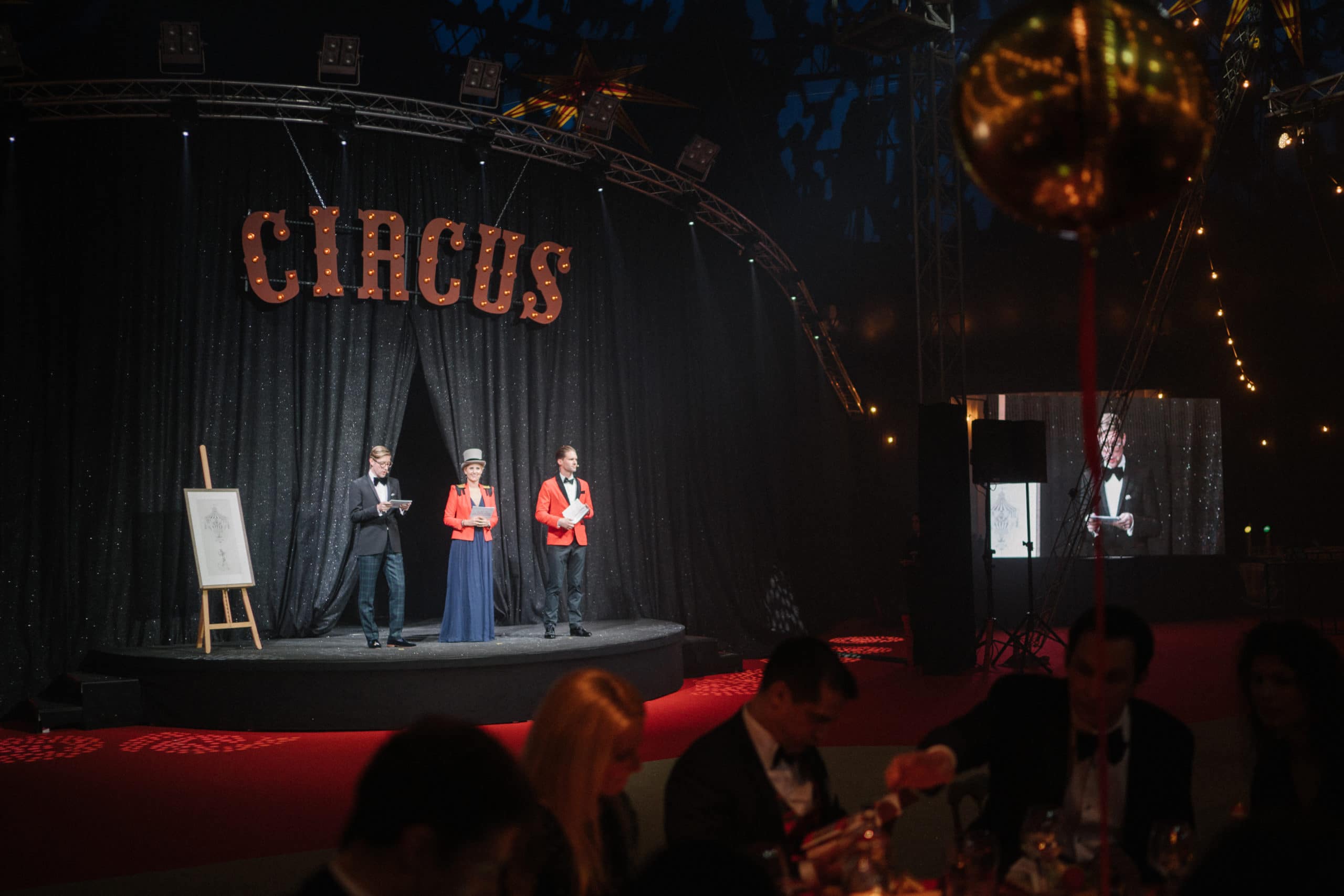 The Red Cross Ball has always been a well-established tradition in Luxembourg. Every two years since 1996, influencers, sponsors, public and economic personalities, press groups and special guests have been gathering, most of them being major donors, to an exclusive thematic charitable event.
The 2016 edition with the Roaring Twenties as the main theme of the Ball was a big success. At that time, we had brought all our expertise to imagine the scenery and to support the technical and logistic organisation of the event and the Red Cross has decided to renew their faith in us.
For this 16th edition of the Red Cross Ball within the 2.500sm of the Adventcircus tent, the chosen theme was circus and we had to reinvent the principal codes of it and bring a touch of glamour and elegance as a signature, if any were needed, for this exceptional event.
We were challenged by the Organising Committee to imagine a scenery and performances recreating the dream and the wonder conveyed by the circus.
Under the heavy circus tent of Adventcircus, the 430 guests and donors were welcomed in an intimate and hushed yet bright atmosphere. Inside the room, a red and gold carpet, heavy white and black hangings and a hundred balloons added the finishing touch to the decoration.
Above the table set with refined and delicate golden details, style "guinguette" garlands were outlining the sky of the tent while diffusing a filtered light worthy of a great gala evening.
In front of the stage an illuminated sign displaying CIRCUS specially created for the event and composed of vintage bulbs was overlooking the room and was bathing it in light during the auction led by Artcurial and all throughout the dinner conducted by Stephane Bern as usual.
At last, it is no less than 12 kilos of golden confetti that were thrown to announce the first dance and the opening of the ball.
The different materials were perfectly structuring the spaces and created a warm and cosy atmosphere to this precious setting where the real seemed to dissolve into the wonderful.
Because a picture is worth a thousand words…